Precious Marine
Precious Marine Ltd,
Woolverstone, Ipswich, Suffolk IP9, 1AS
Tel:+44 (0)1473 780286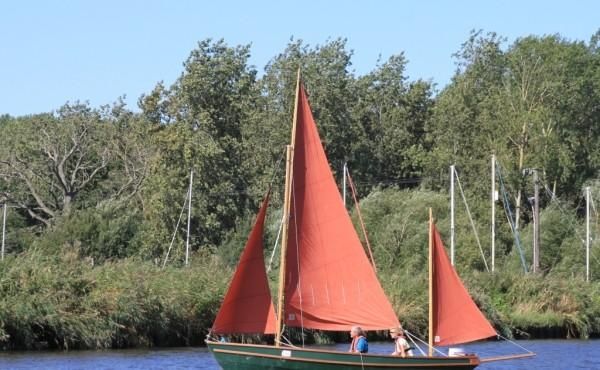 The Drascombe Lugger has established a unique place in small boat sailing. From small lakes and rivers to estuaries and coastal sailing the Lugger ticks all the boxes.
She is easily trailed, easily launched and recovered and sailed by a one person, whilst accommodating up to six people comfortably.
Like all the Drascombe open boats, the Luggers spars stow easily within the length the hull and one person can quickly step the masts and rig the boat – usually within half an hour of arriving you can be on the water ready to go.
The sails are loose-footed and the flexible rig allows for serious sailing as well as comfortable pottering in a light breeze.
A 4 or 5hp outboard is recommended depending upon your sailing area and the engine nestles in a well at the stern of the boat, lifting out of the water when sailing or beaching
Two types of cover are available to protect the boat. The internal cockpit cover is easily fitted afloat and keeps the rain out of the bilges and many Luggers are kept on moorings during the season. The other overall cover is ideal when laid up at the end of the season.
The Lugger can also be fitted with a folding sprayhood which increases her family friendliness and for camping aboard a tent is available.
The option to row as well as outboard engine options make her a very flexible boat for day sailing.
Specifications
Length Overall
18'9 ft / 5.72 m
Max Draft
4'0 ft / 1.22 m